As generally happens, I'm off to a late start again this year, but whatevs, I'm always up for another reading challenge. I'm still working on another one. Since I still have a ways to go with that one, I'll just dovetail the two together.
My other challenge is called Alphabetically Yours and the idea behind it is simple: Read whatever you like, as long as you read at least one fiction and one nonfiction book for each letter of the alphabet (by author's last name). I haven't been able to limit myself to two books per letter, so it's taking longer than I had originally planned, but I am making room on my bookshelves for some new books. You can see my progress (currently working on H) and add yours in the comments for that post (linked above).
ANYWAY, on to the fabulous YALSA Hub Reading Challenge. I do this one every year because I love the diverse selections that always help me stretch out of my normal reading habits. I try new books and authors. While I don't necessarily enjoy every selection, I have found many new favorites over the years.
I will update my progress below and I hope you'll join me in discovering some great YA reads! I'd love to see what you are reading in the comments.
The Diviners (the first in a new series, hooray!) is my favorite type of book--a blend of genres, fun to read and difficult to classify. It's a mix of fantasy, historical fiction, mystery, and suspense, with a dash of romance thrown in for good measure. Bray has painstakingly researched the Roaring Twenties and her gorgeous prose brings the period, and her characters, vividly to life.
After getting in trouble back in Ohio, Evie O'Neill's parents send her to New York to stay with her uncle. An expert in occult matters, he runs The Museum of American Folklore, Superstition, and the Occult--known by the locals as The Museum of the Creepy Crawlies. When Uncle Will is asked to help the police investigate a series of brutal, occult murders, Evie comes along for the ride. Will her ability to "read" objects help her solve the crimes or make her a victim?
Evie is not the only character with a special gift. There's also a pickpocket on a mission to find his mother, a Ziegfeld girl hiding from a dangerous past, a numbers runner with healing powers, and a museum employee who is more (and less) than he seems. Despite the supernatural elements, these characters are well-developed and realistic.
Highly recommended! Finished the second in the series, Lair of Dreams, and have pre-ordered the third book, Before the Devil Breaks You (set to be released in October 2017).
3. The Passion of Dolssa by Julie Berry
This book sums up why I do the YALSA Hub Reading Challenge every year, even now that I'm retired and no longer have students to share books with. I would never have picked this up if it hadn't been on the list because it's so far out of my reading comfort zone. But I loved it.
Dolssa is a Catholic mystic who believes that her beloved is always with her and is able to work miracles through her. Healing and sharing her passion for her beloved brings the horror of the inquisitors upon her. After watching her mother burn at the stake, she escapes. Scared and alone, she is near death when Botille (the true heart of this story) rescues her and brings her home to the tavern she runs with her sisters.
They try to keep Dolssa hidden, but she starts healing people and soon the inquisitors descend on the town, putting everyone in danger.
The setting and the characters were rich and detailed. A fine example of well-researched and beautifully-written YA literature that adults will enjoy and possibly even learn a few things from.
4. Girl Mans Up by M-E Girard
Penelope, who prefers to be called Pen, is the first genderqueer character I've encountered in a YA book. I love how she knows exactly who she is right from the beginning. The problems she encounters are with the way other people see her or expect her to behave, not with any self-doubt.
Cody and his fragile masculinity provides a counterpoint to Pen's much more secure sense of self. Pen takes a while to see him in all his douchey splendor, but thanks to the support of her amazing brother, old and new friends, and a girlfriend who accepts her just as she is, she gets there in the end.
This is such an important book, especially for kids who are gender non-conforming. Definitely worth a read.
5. Keeping the Moon by Sarah Dessen
Nicole Sparks (Colie) used to be overweight, and still feels like the fat girl she used to be. When her mom, who has become a fitness guru, heads out for the summer on a world tour, Colie goes to stay with her aunt. At first, she feels just as out of place in Colby, North Carolina as she's felt everywhere she's been the new kid. But before she knows it, a few special people in town are teaching her about the transformative power of friendship, music, and faking it until you make it. A touching story for anyone who's ever felt like they didn't quite fit in.
6. This Lullaby by Sarah Dessen
Watching her mother's string of failed marriages, Remy, who keeps every aspect of her life neatly organized, vows never to let herself love someone who will only let her down in the end. And then Dexter, messy, clumsy, and impulsive, stumbles into her life.
I enjoy the sensitive and realistic way that Dessen writes about love. Too bad she's about my age because I would have really loved her books when I was a teenager!
7. The Complete Persepolis by Marjane Satrapi
A memoir of the author/illustrator's life growing up in Iran during the Islamic Revolution.
Those who don't believe in the importance of the separation of church and state should really read books like this to see how horrible life is when religious fundamentalists are in charge.
The difference between public and private life (especially for women) is an eye-opener. The pure ridiculousness of some of the laws made my jaw drop. For example, the author recounts that art students were not allowed to sketch female models unless they were wearing the full chador and female students were expected to sketch male models without looking at them!
8. March: Book Three by John Lewis
This volume covers the Birmingham bombing, the marches at Selma, and the voting rights act. The bravery of the people fighting for civil rights in the face of such brutality absolutely astonishes me. We've made progress, but there's definitely more work to do. I hope stories like this will inspire our next generation of leaders.
(I bought the lovely boxed set and read the whole trilogy. I highly recommend it, especially for anyone who thinks the fight is over.)
9. The Wasp That Brainwashed the Caterpillar by Matt Simon
Focused on the grossest and most creative ways organisms have evolved to survive long enough to reproduce, this book will certainly generate interest in further study for kids with strong stomachs who are curious about biology.
10. Asking for It by Louise O'Neill
Emma is gorgeous and knows it. She's not a particularly likable character--she shoplifts and is a crappy friend.
She gets roaring drunk at a party and her parents find her unconscious on the front steps when they return from an overnight trip. She is bruised and doesn't remember how she got home.
Before long, she sees a Facebook page with photos showing her being gang-raped by several guys. Of course, the page is full of vile comments about what a whore she is.
Things go downhill from there. Ugh. This is a depressing read that all too accurately depicts the experiences of women all over the world.
11. Die Young with Me - A Memoir by Rob Rufus
A memoir from a cancer survivor/punk rock drummer. Rob writes candidly about his battle with cancer and its effect on every aspect of his life. His account is raw and sad, angry and hopeful.
12. The Monstrumologist by Rick Yancey
The Monstrumologist, book one.
After the deaths of his parents, Will Henry is taken in by his father's employer, Dr. Pellinore Warthrop, a scientist who studies monsters. Will Henry has become used to visitors in the dark of the night, but when a grave robber stops by with some especially gruesome cargo, Will Henry and Dr. Warthrop embark on a terrifying quest to find and kill the rest of the monsters before they kill again.
Very well done gothic horror set in Victorian England. Gory details and high-level vocabulary make this one a good choice for more mature readers.
13. Just One Day by Gayle Forman
Allyson has every detail of her life planned in advance, even her post-graduation European tour. But when she meets Willem, a free-spirited, traveling actor, all those carefully laid plans go right out the window. Acting extremely out of character, she leaves her tour group and jumps on the train to Paris with charming Willem. They spend a single glorious day and night together, filled with risks and intimacies that sends Allyson's head spinning.
When she wakes up in the morning, alone, her next adventure begins. She returns home and then heads off to college, depressed and feeling lost, but still determined to figure out who she is and what kind of life she wants to create for herself.
I LOVED, LOVED, LOVED the locations, which brought up many fond memories of my own European adventures. Can't wait to read the sequel!
14. Dreamland by Sarah Dessen
Caitlin has always felt like she lived in the shadow of her perfect older sister, Cassandra. Cassandra, tired of feeling trapped by her parents' expectations, runs away from home. Caitlin misses her sister, but sees her absence as a way to finally blaze her own path, without constantly being compared to Cass. Rogerson Biscoe, a mysterious bad boy, attracts Caitlin's attention and she is soon deeply in love with him. Though her friends try to warn her about him, Caitlin is stunned when he first hits her. Caitlin doesn't think she can live without Rogerson and starts to change her life to keep him happy, and herself safe. Meanwhile, her family is so caught up in her sister's disappearance that they fail to notice the changes in Caitlin.
Caitlin is a sympathetic character and Dessen shows how easy it is to get sucked into an abusive relationship--and also how hard it is to get out again.
15. Scythe by Neal Shusterman
In a utopian world where humans have conquered death and disease and people can "turn the corner" as many times as they please, what keeps population from overwhelming the planet's resources? Scythes live on the fringes of society and mete out death as they choose (though they do have quotas to meet and are disciplined if their "gleanings" show bias or laziness).
Scythe Faraday does something out of the ordinary and takes on two apprentices--Citra and Rowan. Neither actually want the job, but take the apprenticeships, party out of curiosity and partly because their families will be immune from gleaning as long as they are scythes.
While I tagged this as a dystopian novel, it really isn't one. The world is actually pretty great, if a bit boring. Citra and Rowan are in the center of plenty of action and adventure as they learn the art of taking a life, but what I found more interesting were the ethical questions they grappled with.
I'll be on the lookout for the next books in this series.
16. EXIT, Pursued by a Bear by E.K. Johnston
Hermione Winters is the quintessential perky cheerleader, not only a flyer, but also a co-captain of her team. It's her final year and she's determined to enjoy her last summer cheerleading camp with her team and her best friend, Polly.
But then someone hands her a drugged drink at a party and she wakes up in the hospital with no memory of what happened.
Unlike many rape victims, Hermione has an incredible support system, from her family, friends, and teammates to the police and doctors who treat her with respect and care.
What I loved so much about this book is that Hermione isn't a one-dimensional victim. The characters are all very well written and the dialogue is spot-on.
E.K. Johnston has handled a difficult and all-too-common subject with admirable grace and damned fine writing.
17. The Female of the Species by Mindy McGinnis
Alex Craft isn't like other girls. And after her sister is raped and murdered, Alex refuses to let the murderer go unpunished.
Revenge doesn't make her whole. Instead, it highlights a darkness that she's always recognized in herself, but could never name. Now she knows she can't be trusted with normal people and isolates herself to protect others.
However, through her volunteer work at a local animal shelter, she forges a friendship with Peekay, who in turn opens Alex up to the possibility of other relationships. Jack, a popular and talented athlete, is fascinated with Alex and sets out to get to know her better.
Told through the alternating voices of Alex, Peekay, and Jack. All of the characters are well-drawn, but Alex is especially compelling. You'll root for her even when you know she's crossing a line and you really shouldn't be on her side.
A page-turner for sure and a brilliant look at rape culture. Dark and, at times, surprisingly funny. Even though this is probably not a book I would reread, it's a book I'd recommend to every young person I know. And I will absolutely be looking for more from this author.
18. The Truth About Forever by Sarah Dessen
After her father's sudden death, Macy Queen deals with her grief by stuffing her feelings away and pretending that she is fine. She has a "perfect" boyfriend and pushes herself to be flawless enough to deserve him.
When Jason leaves for a prestigious summer "Brain Camp," Macy feels lost. She hates her summer job at the library, but soon finds herself working for Wish Catering, a job her mother thinks is beneath her, but one where Macy finds new friends and a sense of deep connection that helps her finally begin to work through her grief.
Moving and hopeful.
19. The Invisible Life of Ivan Isaenko by Scott Stambach
One of many severely disabled children born after the nuclear accident in Chernobyl, Ivan has lived his entire 17 years in the Mazyr Hospital for Gravely Ill Children in Belarus. Despite his physical limitations, he has a keen and active mind. His emotional maturity is severely lacking, especially during the first half of the novel, where he plays mean-spirited "games," often involving bodily excretions and fake seizures, to pass the time and to give himself a sense that he has some control over his environment. Though his games tend to be mainly gross or mean, his sessions with the revolving door of psychologists made me laugh out loud.
When an orphan (otherwise normal, but battling leukemia) arrives who is about his age, he makes a real connection for the first time. Nurse Natalya is great, but she's paid to care for him. Polina is different.
As Ivan learns to care for Polina, he starts to become a character who readers will root for.
20. What Happened to Goodbye? by Sarah Dessen
After her parents' bitter divorce, Mclean is angry at her mother and decides to live with her dad. He moves a lot for his job and in each each new city, Mclean assumes a new name and a new personality. Then, when she leaves, she sheds each persona so she can start fresh in a new place.
Not one of my favorite Dessen books, mainly because I found it difficult to connect to Mclean.
The characters in this book were not as well-developed as I would have liked. Lots of snappy dialogue, though.
Reread for 2017 YALSA Hub Challenge.
21. Just Listen by Sarah Dessen
Annabel is used to being looked at. Growing up with her mother's depression, she is also used to hiding her own feelings and avoiding potential conflict at all cost. When one of her friends, Sophie, gets mad at her and ends their friendship, Annabel starts the new school year alone, with no one to confide in about what really happened. Her family is no help, as they are all dealing with their own issues, and not one of them is perceptive enough to recognize any changes in Annabel.
Then she meets Owen, another outsider. He's a little scary (having a reputation for fighting), a loner obsessed with weird music. But he listens and he tells the truth, something Annabel needs more than she realizes.
Like Dessen's other work, the characters are well-drawn and the dialogue is spot-on. My only gripe is the resolution of Will (unrealistic if you ever watch the news) and Sophie's (out of character) plot lines. Can't say more without spoilers.
Another book about being true to yourself and listening to your own heart that (especially) teen girls should read.
22. The Serpent King by Jeff Zentner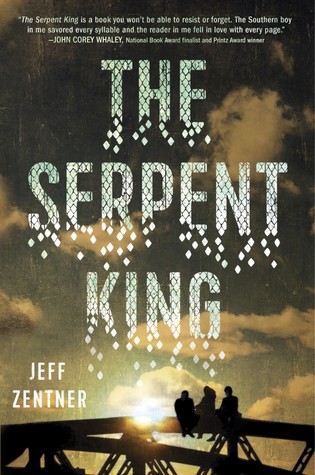 "How was it possible for love of a place and hatred of it to exist so comfortably side by side?"
Dill, Travis, and Lydia are unlikely friends in a small, Southern town. Each a misfit, they've banded together to find a way to survive lives that seem too confined. This is their senior year of high school, a time of firsts and lasts, when they are plotting out their futures, or lack thereof. Their story is told in alternating perspectives.
Dill, the son of a disgraced preacher, longs to break away from the legacy of his family name and follow the secret desires of his heart, but his sense of duty to his family and the path set out for him is a narrow one.
Travis, the son of an abusive asshole, is weirdly obsessed with a fantasy series and carries a wizard staff around with him. But his loyalty to his friends and his mom never wavers. He has the golden heart of a knight and a quiet bravery that goes unnoticed, even by those who know him best. Like Dill, he feels trapped by circumstances and finds it hard to even imagine a life beyond the borders of his small town.
Lydia, an Instagram-obsessed fashion blogger, has the advantage of wealth and knows from the start that she is meant for bigger and better things. Her obliviousness to the suffering of her closest friends makes it harder to care that much about her, at least in the beginning. She does change throughout the course of the story, and I genuinely cared about her by the end. I loved her dad.
I had a hard time getting into the story and came close to abandoning this one. The writing style just didn't engage me right away. I think I was a good 100 pages in before I was really hooked.
Travis brought me in when he used his favorite book quote as his graffiti on The Column. In my small mid western town, we left our teenaged words of wisdom spray-painted on a silo near the high school. And from that point, I couldn't put the book down.
The author's handling of Dill's depression and suicidal thoughts were both moving and utterly realistic and some of the language, especially in descriptions of the setting, was lovely and poetic. And male characters who cry without making a big deal about it, I mean just because they are human and feel things? That, I loved.
Tragic, hopeful, and bittersweet.
23. The Sun is Also a Star by Nicola Yoon
I'm not a believer in love at first sight (lust, certainly) but I enjoyed watching a relationship develop between Natasha (an undocumented immigrant from Jamaica) and Daniel (American, but part of a traditional Korean family).
Natasha goes to the immigration office in a last-ditch effort to keep her family from being deported. Several coincidences later, she's on the way to an appointment with a lawyer who specializes in immigration issues. She meets Daniel as he is on his way to his favorite barber and a meeting that will set him on the path to a life that he doesn't really want.
Daniel is instantly smitten, but Natasha is just not having it. Thanks to a few more coincidences, though, she gives him a chance to prove that he can use science to get her to fall in love with him. As their day progresses, toward its inevitable conclusion, they share more and more about themselves and their lives.
What I actually liked even more than the insta-love that strained credibility on more than one occasion were the snippets of random facts and the behind-the-scenes peeks into the lives of random strangers who influenced the main story in large and small ways.
24. Along for the Ride by Sarah Dessen
Auden is a pretty typical overachiever--she is book- smart, but has missed out on a lot of her childhood because her parents are too wrapped up in their own drama to let her be a child.
When she decides to spend the summer before college at the beach (Dessen fans will recognize Colby and some familiar characters from other stories) with her dad and his new wife and baby, she finally starts to take a look at her family and how they have affected her. And with the help of a handsome stranger dealing with his own demons, she embarks on a quest that's all about second chances.
25. Salt to the Sea by Ruta Sepetys
Refugees caught between German and Russian troops toward the end of WWII flee their homes in the hope of finding a safe haven.
Emilia is all alone until she crosses Florian's path. Even though he knows he'll have a better chance on his own, she reminds him of his little sister, who he hopes is still alive--somewhere. Soon, they join up with Joana and her small group of traveling companions.
The story is told in the alternating perspectives of Emilia, Joana, Florian, and Alfred (a Nazi who they meet later). At first, I found the narrative hard to follow, as the perspective is constantly changing and each character has very short chapters. I felt sympathy for the characters right away, but it was a while into the story before they felt real, rather than merely generic placeholders for the plot to act upon.
They are headed for the Wilhelm Gustloff, a ship that they hope will take them to safety.
Flawlessly researched historical fiction based on a real, and little-known, maritime tragedy.