As generally happens, I'm off to a late start again this year, but whatevs, I'm always up for another reading challenge. I'm still working on another one. Since I still have a ways to go with that one, I'll just dovetail the two together.
My other challenge is called Alphabetically Yours and the idea behind it is simple: Read whatever you like, as long as you read at least one fiction and one nonfiction book for each letter of the alphabet (by author's last name). I haven't been able to limit myself to two books per letter, so it's taking longer than I had originally planned, but I am making room on my bookshelves for some new books. You can see my progress (currently working on H) and add yours in the comments for that post (linked above).
ANYWAY, on to the fabulous YALSA Hub Reading Challenge. I do this one every year because I love the diverse selections that always help me stretch out of my normal reading habits. I try new books and authors. While I don't necessarily enjoy every selection, I have found many new favorites over the years.
I will update my progress below and I hope you'll join me in discovering some great YA reads! I'd love to see what you are reading in the comments.
*******************************************
1. The Smell of Other People's Houses by Bonnie-Sue Hitchcock
Four teenagers come of age in Alaska in the 1970s.
There's Ruth, looking for love and connection in all the wrong places. Her loving parents are gone and she lives with her fundamentalist grandmother in a home where any hint of pleasure or joy is a sin.
Next we meet Dora, trying to escape from an abusive home and looking for someone she can trust to keep her safe.
Alyce's parents love her, but since their divorce she's felt like her life has been torn in two and she lives her life to make them happy rather than pursuing her own dreams of being a dancer.
Finally, there's Hank, who runs away from home with his two younger brothers in tow. Their dad is missing, presumed dead, and his mom has a new boyfriend.
It took me a while to get into the story, but once it hooked me, I was good and hooked. This is my favorite kind of story. It features several main characters who each have their own journey, but somehow their paths weave together in the end, showing the deep connections that exist in our lives, whether we are aware of them or not.
2. The Diviners by Libba Bray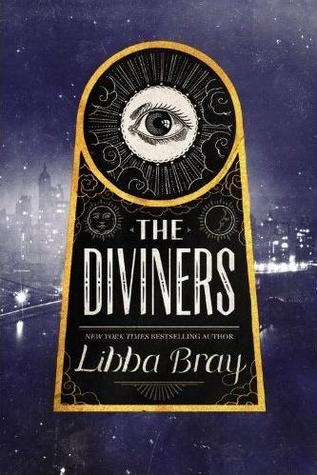 The Diviners (the first in a new series, hooray!) is my favorite type of book--a blend of genres, fun to read and difficult to classify. It's a mix of fantasy, historical fiction, mystery, and suspense, with a dash of romance thrown in for good measure. Bray has painstakingly researched the Roaring Twenties and her gorgeous prose brings the period, and her characters, vividly to life.
After getting in trouble back in Ohio, Evie O'Neill's parents send her to New York to stay with her uncle. An expert in occult matters, he runs The Museum of American Folklore, Superstition, and the Occult--known by the locals as The Museum of the Creepy Crawlies. When Uncle Will is asked to help the police investigate a series of brutal, occult murders, Evie comes along for the ride. Will her ability to "read" objects help her solve the crimes or make her a victim?
Evie is not the only character with a special gift. There's also a pickpocket on a mission to find his mother, a Ziegfeld girl hiding from a dangerous past, a numbers runner with healing powers, and a museum employee who is more (and less) than he seems. Despite the supernatural elements, these characters are well-developed and realistic.
Highly recommended! Finished the second in the series, Lair of Dreams, and have pre-ordered the third book, Before the Devil Breaks You (set to be released in October 2017).
3. The Passion of Dolssa by Julie Berry
This book sums up why I do the YALSA Hub Reading Challenge every year, even now that I'm retired and no longer have students to share books with. I would never have picked this up if it hadn't been on the list because it's so far out of my reading comfort zone. But I loved it.
Dolssa is a Catholic mystic who believes that her beloved is always with her and is able to work miracles through her. Healing and sharing her passion for her beloved brings the horror of the inquisitors upon her. After watching her mother burn at the stake, she escapes. Scared and alone, she is near death when Botille (the true heart of this story) rescues her and brings her home to the tavern she runs with her sisters.
They try to keep Dolssa hidden, but she starts healing people and soon the inquisitors descend on the town, putting everyone in danger.
The setting and the characters were rich and detailed. A fine example of well-researched and beautifully-written YA literature that adults will enjoy and possibly even learn a few things from.
4. Girl Mans Up by M-E Girard
Penelope, who prefers to be called Pen, is the first genderqueer character I've encountered in a YA book. I love how she knows exactly who she is right from the beginning. The problems she encounters are with the way other people see her or expect her to behave, not with any self-doubt.
Cody and his fragile masculinity provides a counterpoint to Pen's much more secure sense of self. Pen takes a while to see him in all his douchey splendor, but thanks to the support of her amazing brother, old and new friends, and a girlfriend who accepts her just as she is, she gets there in the end.
This is such an important book, especially for kids who are gender non-conforming. Definitely worth a read.
5. Keeping the Moon by Sarah Dessen
Nicole Sparks (Colie) used to be overweight, and still feels like the fat girl she used to be. When her mom, who has become a fitness guru, heads out for the summer on a world tour, Colie goes to stay with her aunt. At first, she feels just as out of place in Colby, North Carolina as she's felt everywhere she's been the new kid. But before she knows it, a few special people in town are teaching her about the transformative power of friendship, music, and faking it until you make it. A touching story for anyone who's ever felt like they didn't quite fit in.
6. This Lullaby by Sarah Dessen
Watching her mother's string of failed marriages, Remy, who keeps every aspect of her life neatly organized, vows never to let herself love someone who will only let her down in the end. And then Dexter, messy, clumsy, and impulsive, stumbles into her life.
I enjoy the sensitive and realistic way that Dessen writes about love. Too bad she's about my age because I would have really loved her books when I was a teenager!
7. The Complete Persepolis by Marjane Satrapi
A memoir of the author/illustrator's life growing up in Iran during the Islamic Revolution.
Those who don't believe in the importance of the separation of church and state should really read books like this to see how horrible life is when religious fundamentalists are in charge.
The difference between public and private life (especially for women) is an eye-opener. The pure ridiculousness of some of the laws made my jaw drop. For example, the author recounts that art students were not allowed to sketch female models unless they were wearing the full chador and female students were expected to sketch male models without looking at them!
8. March: Book Three by John Lewis
This volume covers the Birmingham bombing, the marches at Selma, and the voting rights act. The bravery of the people fighting for civil rights in the face of such brutality absolutely astonishes me. We've made progress, but there's definitely more work to do. I hope stories like this will inspire our next generation of leaders.
(I bought the lovely boxed set and read the whole trilogy. I highly recommend it, especially for anyone who thinks the fight is over.)
9. The Wasp That Brainwashed the Caterpillar by Matt Simon
Focused on the grossest and most creative ways organisms have evolved to survive long enough to reproduce, this book will certainly generate interest in further study for kids with strong stomachs who are curious about biology.
10. Asking for It by Louise O'Neill
Emma is gorgeous and knows it. She's not a particularly likable character--she shoplifts and is a crappy friend.
She gets roaring drunk at a party and her parents find her unconscious on the front steps when they return from an overnight trip. She is bruised and doesn't remember how she got home.
Before long, she sees a Facebook page with photos showing her being gang-raped by several guys. Of course, the page is full of vile comments about what a whore she is.
Things go downhill from there. Ugh. This is a depressing read that all too accurately depicts the experiences of women all over the world.
11. Die Young with Me - A Memoir by Rob Rufus
A memoir from a cancer survivor/punk rock drummer. Rob writes candidly about his battle with cancer and its effect on every aspect of his life. His account is raw and sad, angry and hopeful.
12. The Monstrumologist by Rick Yancey
The Monstrumologist, book one.
After the deaths of his parents, Will Henry is taken in by his father's employer, Dr. Pellinore Warthrop, a scientist who studies monsters. Will Henry has become used to visitors in the dark of the night, but when a grave robber stops by with some especially gruesome cargo, Will Henry and Dr. Warthrop embark on a terrifying quest to find and kill the rest of the monsters before they kill again.
Very well done gothic horror set in Victorian England. Gory details and high-level vocabulary make this one a good choice for more mature readers.
13. Just One Day by Gayle Forman
Allyson has every detail of her life planned in advance, even her post-graduation European tour. But when she meets Willem, a free-spirited, traveling actor, all those carefully laid plans go right out the window. Acting extremely out of character, she leaves her tour group and jumps on the train to Paris with charming Willem. They spend a single glorious day and night together, filled with risks and intimacies that sends Allyson's head spinning.
When she wakes up in the morning, alone, her next adventure begins. She returns home and then heads off to college, depressed and feeling lost, but still determined to figure out who she is and what kind of life she wants to create for herself.
I LOVED, LOVED, LOVED the locations, which brought up many fond memories of my own European adventures. Can't wait to read the sequel!
14. Dreamland by Sarah Dessen
Caitlin has always felt like she lived in the shadow of her perfect older sister, Cassandra. Cassandra, tired of feeling trapped by her parents' expectations, runs away from home. Caitlin misses her sister, but sees her absence as a way to finally blaze her own path, without constantly being compared to Cass. Rogerson Biscoe, a mysterious bad boy, attracts Caitlin's attention and she is soon deeply in love with him. Though her friends try to warn her about him, Caitlin is stunned when he first hits her. Caitlin doesn't think she can live without Rogerson and starts to change her life to keep him happy, and herself safe. Meanwhile, her family is so caught up in her sister's disappearance that they fail to notice the changes in Caitlin.
Caitlin is a sympathetic character and Dessen shows how easy it is to get sucked into an abusive relationship--and also how hard it is to get out again.
Currently reading:
15. Scythe by Neal Shusterman