It's been a girl power week of reading. Hooray! If only Spring Break could happen more often...
The Miseducation of Cameron Post by Emily M. Danforth
Wow. I loved this book.
First, it's a beautifully told coming-of-age story set in a small town in Montana. The writing is luxurious and brings the setting fully to life. The characters are well-rounded; even the less sympathetic ones aren't all bad. The length might scare some readers away, especially since this is not a Twilight-ish book that a reader can speed through. This is a book to savor, like the unbearably long, hot days of summer that seem to stretch ahead forever, but end all too quickly.
The fact that Cameron Post is a lesbian is important to the story, but it's not the only aspect of her life that's important to the story. She's a realistically drawn character (faults and all), and her gayness is simply one part of who she is. "I just liked girls because I couldn't help not to." Any young adult, as well as many adults, will be able to relate to Cameron's struggle to find her place in the world around her.
Cameron's parents die in a car accident when she is 12, and her evangelical Aunt Ruth moves in to care for her and her ailing grandmother. For awhile, Cameron pretty much continues to live her life as she wishes, except for church on Sundays and the mandatory youth group. "Being a true believer meant helping others, lots of others, to believe just like me. Rather than convincing me of the righteousness of this kind of believing, rather than making me certain of its correctness, it made me question, and doubt, all the more."
When Ruth finds out about Cam's love affair with a girl in town, she sends Cam to a "pray the gay away" school affiliated with her church. Even as she pretends to play along, Cameron remains skeptical that the staff of God's Promise will be able to cure her of something that is not a disease. Cameron comes to see that the staff really have no idea what they are doing, though she believes that they mean well. She describes Lydia, the head counselor, this way: "...witnessing her administration of ten zillion rules and codes of conduct, all of which she applied to her own life, made her seem fragile and weak, in need of the constant protection of all those rules..." I guess this line resonated with me because it often seems to me that ultra-religious people are obsessed with sin. Like the ONLY thing that keeps one from committing mayhem is the prohibition against doing so. One could argue that truly moral people do not require the threat of punishment to do the right thing. They do the right thing even when no one is watching, judging, or threatening punishment.
While Cameron is not always likable, you'll root for her as she struggles to be true to herself and to live her life according to her own conscience. As she says in a sort of communion with her parents, "Maybe I still haven't become me. I don't know how you tell for sure when you finally have."
Frank depictions of sex and drug use. Highly recommended for mature readers.
Monstrous Beauty by Elizabeth Fama
Marvelous story. Marvelous, lush writing. Did I mention that this story is marvelous?

Syrenka is a mermaid, but more of the Brothers Grimm variety than the Disneyfied version we've come to know. She is immortal and deadly, but willing to risk everything when she falls in love with Ezra. They are happy for a time, but the consequences of Syrenka's choices prove deadly.

Many generations later, Hester meets a handsome young man on the beach; the two feel an instant connection, like they've known each other forever. Because the women in her family have some unexplained affliction that causes them to die right after giving birth, Hester is determined to remain alone forever. But, still, there is something about Ezra...

Syrenka's and Hester's intertwined stories are told with prose that flows like ocean currents in alternating chapters. The world of mermaids comes alive in this entrancing tale that combines fantasy and folklore, romance, historical fiction, realistic fiction, and mystery.
Prom and Prejudice by Elizabeth Eulberg
"It is a truth universally acknowledged, that a single girl of high standing at Longbourn Academy must be in want of a prom date."

Fans (especially younger ones) of Jane Austen's Pride and Prejudice will enjoy this frothy and fun retelling of the classic novel of manners. It's a quick and easy read.

Lizzie Bennet, one of only two scholarship students at the prestigious Longbourn Academy, is a promising musician who dreams of playing in Carnegie Hall. Aside from Charlotte, the other scholarship student, and her roommate, Jane, no one at Longbourn wants anything to do with Lizzie, unless it's to torment her with mean-girl pranks.

Jane falls in love with Charles Bingley, a student at the equally exclusive boys' school, Pemberley, and Lizzie is partnered up with Charles' friend, the wealthy and pretentious Will Darcy. Misunderstandings and crossed signals abound, but readers familiar with the story will realize that everything is going to turn out all right in the end.
Alanna: The First Adventure by Tamora Pierce
Tortall Universe, Song of the Lioness #1.
Alanna and her twin brother, Thom, are about to go their separate ways--Alanna to a convent to learn magic, and Thom to the castle to learn to be a knight. Of course, Thom would rather learn magic and Alanna would rather be a knight. Surprise, surprise...they switch places.
We don't hear much from Thom, but Alanna (aka Alan) discovers that the life of a page is harder than she had expected. At times, Alanna seems a little to good to be believable, but she's a strong female character. She finds a well of strength inside herself that will help her be the hero she has always dreamed of.
A fight between good and evil perfect for middle level readers.
First Test by Tamora Pierce


Tortall Universe, Protector of the Small, #1.

Since I read Alanna: The First Adventure in the same weekend, First Test felt very similar. Like Alanna, Keladry of Mindalen longs to be a knight. She comes to the castle to become a page, but she does so openly, without concealing her gender. Of course, this opens her up to almost constant abuse from the other pages. Despite the challenges, Keladry refuses to give up and proves herself the equal, and in many cases the better knight, than the other pages.

Keladry, even more than Alanna, is a character to admire. She doesn't strive to become a knight simply to escape her fate as a proper court lady; she believes wholeheartedly in chivalry and protecting those who need protection. She stands up for others and calls the other boys to the carpet when they don't want to follow her lead.

Another excellent fantasy for middle level readers.

**************************************************
These weren't on the YALSA list, but worth a look.
Beauty Queens by Libba Bray
This review refers to the audiobook, read by the author. The footnotes that may have annoyed me had I read this instead of listened to it, came to wonderful, hilarious life.

Of the 50 young women and their chaperones who crash land on a deserted tropical island, only 12 teens survive. Imagine Lord of the Flies, but with more mascara and push-up bras.

I wasn't too sure about this concept at first, as I generally prefer Libba Bray when she's doing historical fiction. However, once I got drawn in, I loved the satire about our consumer culture and unrealistic expectations for women. Bray's beauty queens begin by seeing each other as obstacles; once they get to know each other, they realize they can only succeed together.

The thing I love most about satire is that it makes you laugh, even as it makes you think. However, misogynists beware: feminism abounds. If you like your women quiet, obedient, and pregnant, you'll probably hate this book. I thought it was hilarious and empowering.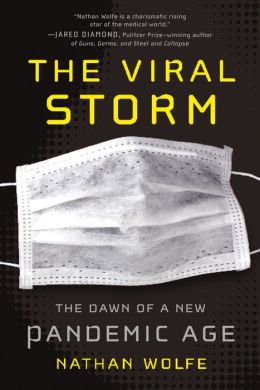 Viral Storm: The Dawn of a New Pandemic Age by Nathan Wolfe
There were several things I liked about this book, even though it's not the type of thing I usually read. First, as a science novice, I appreciated the simple explanations of how viruses evolve and function. Learning how viruses jump from animals to humans was fascinating. Wolfe's assertion that perhaps we are overspending on stopping terrorist attacks and would be better served (in terms of protecting human life) by funding more scientific research makes perfect sense. Although his name-dropping goes a bit overboard at times, I get that he's doing it to highlight the useful research that is happening around the world and to remind us to keep funding it.

It's funny that some people view this book as "alarmist." I didn't feel that way at all. On the contrary, I felt that Wolfe was giving both sides about viruses. They aren't all trying to kill us. Many viruses are beneficial, or at least do no harm, and can be harnessed to help fight disease. His assertion is that we should not be trying to eradicate all viruses. Instead, we should be focused on the truly harmful ones that have the ability to cause pandemics.