Apparently, there are several million reading challenges that I'm not aware of. My reaction upon learning about #The Reading Quest: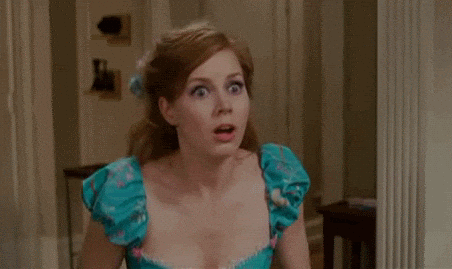 The quest spans from Sunday, August 13 to Sunday, September 10. Sign-up closes on August 13, so go sign up right now if you haven't already!
Pick a character (Bard, Rogue, Mage, or Knight) and then start filling in the bingo board on that character's path. As you read, you'll earn points and level up, just like in a video game. I will be trying to fill the whole, board, but I'll start on the Bard's path.
Find the sign-up post and full information at Read at Midnight. All the artwork for The Reading Quest was created by CW of Read, Think, Ponder. Not only does she do book reviews, but she creates wonderful bookish art. Go check it out!
Here is my preliminary TBR. I'm waiting for a reading buddy so I can finalize.
I created my character card with an easy-to-follow tutorial by Glaiza at paperwanderer.
I went through my TBR again to add a few more diverse authors. Here's the revised TBR:
Bard:
MOVIE/TV ADAPTATION: Me Before You by Jojo Moyes

(+10EXP, +37HP)
FAIRY TALE RETELLING: Belle by Cameron Dokey

(+10EXP, +20HP)
STRIKING TOPOGRAHY: Tranny by Laura Jane Grace

(+20EXP, +30HP)
TRANSLATED FROM ANOTHER LANGUAGE: The Law of Love by Laura Esquivel (+20EXP, +26HP)
BANNED BOOK: Kaffir Boy by Mark Mathabane (+20EXP, +35HP)
Rogue:
BANNED BOOK: Kaffir Boy by Mark Mathabane (+20EXP, +35HP)
PARTIALLY OBSCURED FACE: The Hate U Give by Angie Thomas (+20EXP, +45HP)
Less than 500 GOODREADS RATINGS: Estrella's Quinceañera by Malín Alegría (+20EXP, +26HP)
SMALL PRESS: From Somalia, With Love by Na'ima B. Robert (+20 EXP, +16HP)
ONE WORD TITLE: Feathers by Jacqueline Woodson (+20EXP, +12HP)
Mage:
ONE WORD TITLE: Feathers by Jacqueline Woodson (+20EXP, +12HP)
CONTAINS MAGIC: Fairest of All by Serena Valentino (+20EXP, +25HP)
BASED ON MYTHOLOGY: Quiver by Stephanie Spinner ((+10EXP, +18HP)
SET IN A DIFFERENT WORLD: Shadow Scale by Rachel Hartman (+10EXP, +59HP)
FIRST BOOK IN A SERIES: Dead is the New Black by Marlene Perez (+20EXP, +19HP)
Knight:
FIRST BOOK IN A SERIES: Dead is the New Black by Marlene Perez (+20EXP, +19HP)
VERB IN THE TITLE: Before I Die by Jenny Downham (+10EXP, +33HP)
WEAPON ON THE COVER: An Unfinished Life by Mark Spragg (+10EXP, +26HP)
RED COVER: Saving Red by Sonya Sones (+10EXP, +44HP)
MOVIE/TV ADAPTATION: Me Before You by Jojo Moyes (+10EXP, +37HP)
Side Quests:
POTIONS (2+ authors): A Monster Calls by Patrick Ness and Siobhan Dowd

(+10EXP, +21HP)
MULTIPLAYER (buddy read): The Midnight Star by Marie Lu (+20EXP, +32HP)
GRIND (500+ pages): Perfect by Ellen Hopkins (+10EXP, +62HP)
TIME WARP (past/future setting): When My Name was Keoko by Linda Sue Park (+20EXP, +20HP)
OPEN WORLD (free pick): Annie on My Mind by Nancy Garden (+20EXP, +26HP)
RESPAWN (previously DNF): Red Scarf Girl by Ji-Li Jiang (+20EXP, +28HP)
EXPANSION (companion book): The Tales of Beedle the Bard by J.K. Rowling

(+10EXP, +11HP)
MINI-GAME: (novella): Hiroshima by Laurence Yep (+20EXP, +5HP)
ANIMAL COMPANION (animal in title): A Sending of Dragons by Jane Yolen (+10EXP, 29HP) OR The Reluctant Dragon by Kenneth Grahame (+10EXP, +6HP)
***************************
[BARD] A BOOK THAT HAS A TV/MOVIE ADAPTATION:
Me Before You by Jojo Moyes (+10EXP, +37HP)
Judging from the cover art, I thought this was going to be a fluffy romance. While there is some romance, Moyes takes on some heavy topics here.
Louisa has worked at the same safe job and been with the same safe boyfriend for years. At 26, she still lives at home with her parents. They struggle financially and Louisa helps out as much as she can. After being let go when her boss decides to close his cafe, she gets a few awful jobs through the local job center. When none of these work out, she is hired as a companion for Will, who lost all interest in living after an accident made him a quadriplegic.
At first, I didn't like Lou all that much. She exhibits almost no curiosity about the larger world and has no aspirations beyond a steady paycheck. When Will challenges her (and she challenges him right back) she starts to become a more interesting character. They are both damaged, although some scars are more visible than others.
When Lou finds out that Will plans to seek out an assisted suicide, she sets out to show him that his life is not over and that he can still have a future. Along the way, she faces a few of her own demons and finds herself more invested in Will's happiness than she ever could have imagined.
Have plenty of Kleenex handy.
[BARD] A FAIRY TALE RETELLING:
Belle by Cameron Okey
An interesting retelling of Beauty and the Beast in which Belle is a gifted wood carver.
During a storm, Belle's father gets lost in the woods and stumbles into the Beast's home. All is fine until he picks up a branch from the mysterious Heartwood Tree. When the Beast gets angry that the tree would choose to bestow a gift (but not to him), Belle's father tells the Beast about her gift with seeing things in wood. The Beast insists that either Belle or her father remain with him until they can find out what the branch holds inside.
Belle and the Beast don't even meet until about the last third of the book, so the development of their relationship is brushed over pretty quickly. I still enjoyed this version, especially the legend of the Heartwood Tree.
[SIDE QUEST] POTIONS ( A book concocted by 2+ authors)
I also buddy read this with @raisinetta so she could use it for the [SIDE QUEST] MULTIPLAYER.
A Monster Calls by Patrick Ness and Siobhan Dowd
This is the sort of book that is so sad and beautiful that it rips your heart right out. After you dry your ugly-cry tears, you hand it to everyone you love and say, "Read this! It's SOOOOOO good." Those words aren't enough, but they are all you'll have left.
From the first line to the last, I was entranced.
"The monster showed up just after midnight. As they do."
Conor is struggling to deal with his mom's illness. Since she was diagnosed with cancer, he's been having the same nightmare every night.
And then a different monster comes to call. This monster tells stories, but they are not stories with neat, happy endings. They are messy and complicated and sometimes unfair. And he wants A story from Conor, a true story.
And that is the worst nightmare Conor can imagine.
[BARD] A COVER WITH STRIKING TOPOGRAPHY:
Tranny: Confessions of Punk Rock's Most Infamous Anarchist Sellout by Laura Jane Grace
I picked up this book after seeing an interview with Laura Jane Grace and wanting to hear more of her story.
Most of the book deals with the band she started as Tom Gabel and the ups and downs of the punk rock scene. Punk fans will certainly find this stuff way more interesting than I did.
Her coming out as transgender and her transition to living publicly as a woman was compelling to read, raw and real.
[BARD] TRANSLATED FROM ANOTHER LANGUAGE:
The Law of Love by Laura Esquivel, Translated by Margaret Sayers Peden
Currently reading
[SIDE QUEST] MINI-GAME (Read a graphic novel, novella, or poem collection)
Currently reading