Hooray for graphic novels! Quick and worthwhile reads helped pump up my total for the challenge. Since the weather is not giving me anything to be joyful about, at least I had some good books to help keep me warm.
Dogs of War by Sheila Keenan and Nathan Fox
I can never get enough books featuring animals to satisfy my students, and this is one that I will certainly add to my collection.
Three short stories inspired by real MWDs (military working dogs) show how dogs helped soldiers survive during wartime. The first story features Boots, a Mercy Dog during WWI. His job was to locate wounded soldiers who might otherwise be left for dead. The second story features Loki, a sled dog who protects his trainer's life during WWII. The third story is the book's emotional center, featuring Lanford, a Vietnam veteran struggling to cope with PTSD. A young neighbor and his naughty puppy enable Lanford to talk about his experiences in Vietnam and his close relationship with his scout dog, Sheba.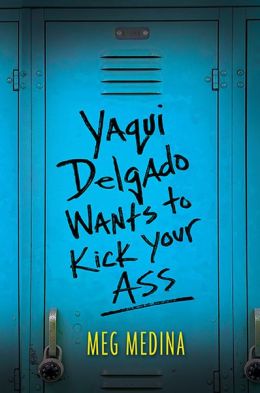 Yaqui Delgado Wants to Kick Your Ass by Meg Medina
When Piddy transfers to a new school, she's not too happy about it. But things quickly go from bad to worse when a school bully threatens to kick her ass for no apparent reason. At first, Piddy doesn't take the threat seriously, but as Yaqui and her friends continue to stalk her, Piddy gradually withdraws from everyone around her.
I enjoyed the Spanish sprinkled throughout the story and I think that teens, especially girls, will be able to relate to Piddy's struggle.
Will & Whit by Laura Lee Gulledge
Will (Wilhelmina) Huckstep is a smart and funny young woman who tries to avoid thinking about a family tragedy. She doesn't talk about her feelings with her aunt or her friends, but she is afraid of the dark and creates lamps out of found objects to try to chase away the shadows she fears. When Hurricane Whitney comes to town, Will has to find a way to keep the darkness at bay.
This is a beautifully done graphic novel with a focus on character development rather than plot. Will gradually learns to face her fears and to deal with her emotions so that she (and her friends) can move n with their lives. Despite a few places where the dialogue was a bit heavy-handed during Will's emotional breakthrough, the story was enjoyable and moving. I would especially recommend this for girls who are dealing with tough issues in their own lives.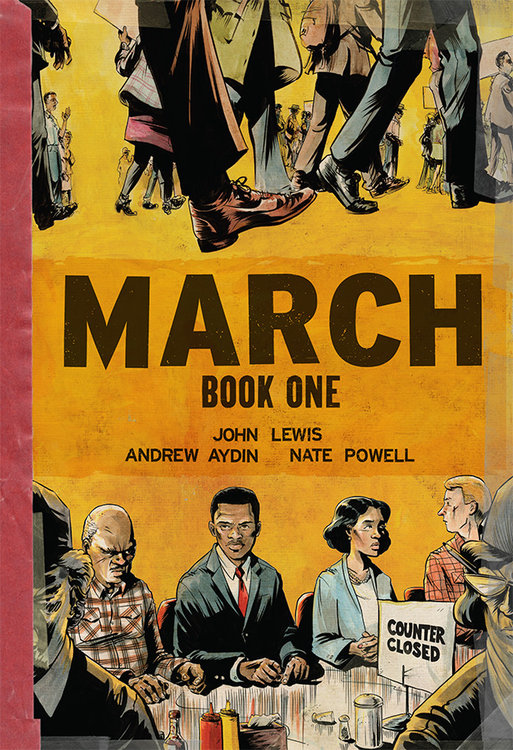 March (Book One) by John Lewis, Andrew Aydin, and Nate Powell
Book one of a planned trilogy about the life of Congressman John Lewis.
Congressman Lewis, an important part of the civil rights movement, started his life on a sharecropper's farm, preaching to his chickens and dreaming of becoming a preacher. He eventually met Dr. Martin Luther King and Jim Lawson and got involved in the non-violent protest movement. The student protesters were non-violent, but their opponents were not. I am in awe of the kind of bravery it took to stand up to violence and unfair treatment without lashing out and returning fire.
This well-done graphic novel chronicles an important period in American history and reminds us what can be accomplished when a group of people is united in a common cause.
The Adventures of Superhero Girl by Faith Erin Hicks
Our kick-ass heroine can leap tall buildings, but being a superhero is not exactly paying the bills. She's angsty and insecure, and she feels overshadowed by her big brother who is, well, superhero-ier. I loved the artwork and the story. I look forward to adding this title to my classroom library and sharing it with students far and wide ('cause that's MY superpower).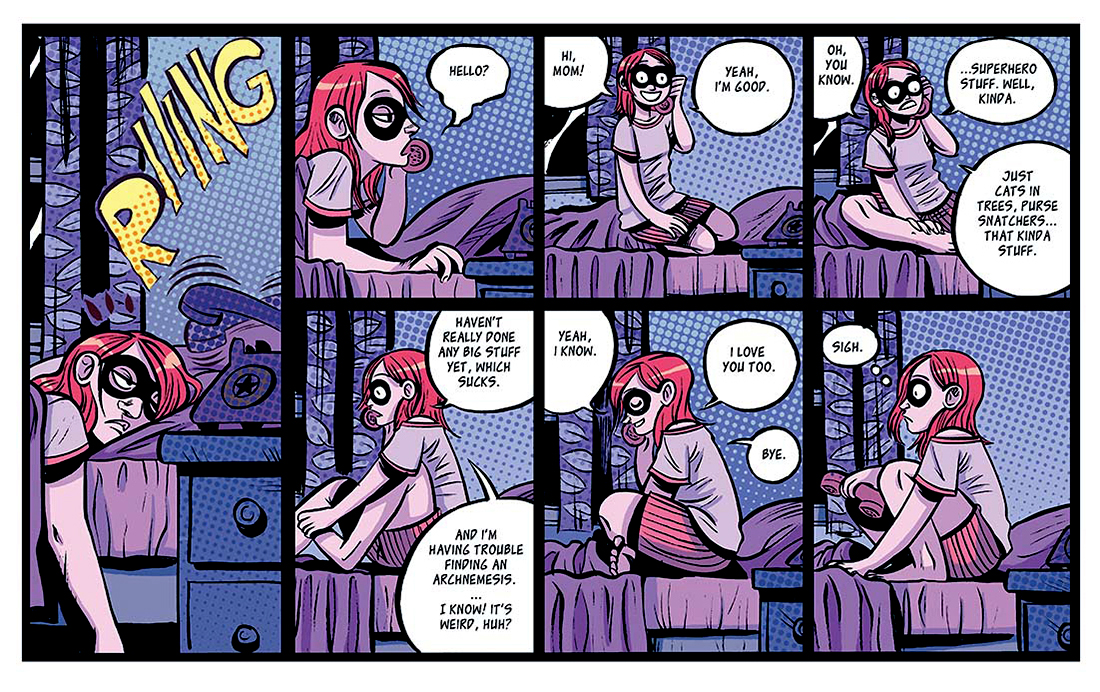 I read this one for a book club and NOT for the YALSA Challenge.
The Language of Flowers by Vanessa Diffenbaugh
Victoria was abandoned as a baby and has spent her childhood in a dizzying array of foster homes and group homes. She is a prickly, unlikable character, but as we see in the glimpses of her childhood, she has some pretty good reasons for refusing to trust the people who profess to care about her. In chapters that alternate between past and present, we gradually learn Victoria's story and how she sabotaged her last chance to be adopted. Her regrets about Elizabeth, who could have been her mother, haunt her.
Her one passion is flowers and their meanings (which she learned from Elizabeth). After turning 18 and being emancipated by the state, she becomes homeless until a chance encounter with a gruff Russian florist leads to a job and a place to live. She meets a guy at the flower market who understands the language of flowers. One of my favorite scenes in the book is their back and forth dialogue, spoken entirely with flowers.
The author lost me in the middle of the novel. Just when Victoria seems to be opening to the possibility of love, she walks away. The plot in this section felt forced and unbelievable. And Victoria made some decisions that were very difficult to either like or understand.
Victoria started to grow up a bit during the final third of the story and I was drawn back in. While the ending wasn't exactly happy, I found it at least hopeful.
Especially in the first third of the novel, I found the language beautiful and poetic. I'm not sure if the writing actually got less polished toward the end or if I noticed more awkward language as I went on because I wasn't as caught up in the story. This book made for a great book club discussion, as opinions ranged all over the map!
Since reading this book, when I'm in a bad mood I want to surround myself with thistles.